The HARVARD CLUB of NEW JERSEY invites you
to our annual Shakespeare Theater/Shanghai Jazz event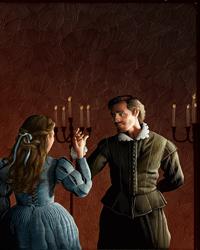 SHAKESPEARE IN LOVE
Saturday, October 28th at 2:00 PM
at the FM Kirby Shakespeare Theater, Drew University
36 Madison Ave, Madison , NJ
Join us for this exuberant adaptation of the Academy Award winning film, with musical accompaniment.
Featuring "mistaken identities, a shipwreck, a pirate king, a bit with a dog, and love triumphant," the production is a "rousing, funny and beautiful homage to love, art and Shakespeare himself."
The talk-back after the show provides a wonderful opportunity to hear cast members discuss their roles and interpretations of the play as they respond to questions from the audience.
Ticket price includes a complimentary pass to the new Patrons' Lounge.
Also join us for great company and conversation over a sumptuous post-theater Chinese banquet at nearby Shanghai Jazz www.shanghaijazz.com hosted by owner Martha Chang, KSG '88, GSAS '93.
Theater tickets are at a discounted rate of $52 for HCNJ members and $56 for non-members.
Dinner is $65 per person.
Tickets for either or both the theater and dinner can be purchased by Clicking here
For more information, please contact Wendy Livingston at wendyl55@aol.com or (973) 432-5099, or Beth Chalom at bethchalom@gmail.com or (973) 738-2577
Tickets will be distributed in the theater lobby from 1:30- 2:00 before the play.