All Ivy Ski/Snowboard Trip
Join area Harvard Clubs on a joint ski trip to Lake Placid, NY.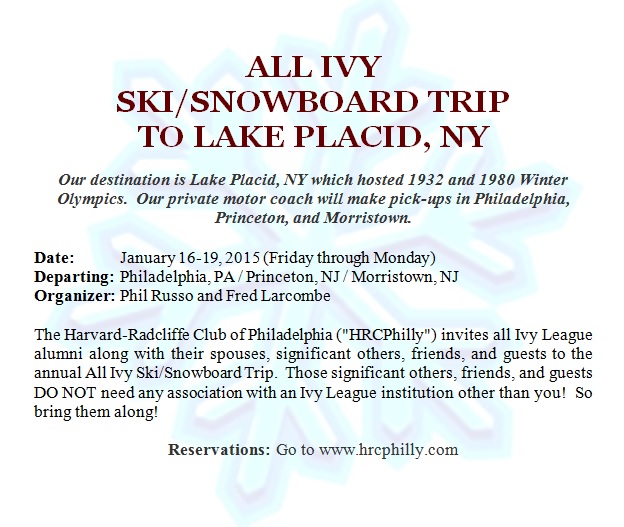 This year our destination is Lake Placid, NY which hosted 1932 and 1980 Winter Olympics. At nearby Whiteface Mountain you will enjoy world-class skiing and superb snowboarding in a giant terrain park. Lake Placid is well known among winter sports enthusiasts, has one of the few bobsled runs in the western hemisphere, and is one of the few winter resorts in the United States which offers dogsled and sleigh rides. Need more info? Go to www.lakeplacid.com.
We will travel by private motor coach departing Philadelphia, PA Friday morning at 9:00AM and pick up additional alumni and guests in Princeton, NJ at 10:00AM and then Morristown, NJ at 11:00AM. The bus will be stocked with an ample supply of sandwiches, snacks, and adult refreshments for your pleasure. We will arrive Lake Placid late that afternoon and you will have Friday and Saturday evenings free to explore the quaint town, visit its numerous shops, savor its excellent restaurants, explore the varied nightlife, have a snowball fight, or take a romantic sleigh ride... Or perhaps all of the above!!! We will depart Lake Placid at 11:00AM Monday for a leisurely trip home.
We have put together an all-inclusive package which consists of:
- All transportation
- Friday night lodging
- Saturday buffet breakfast
- Saturday lift ticket
- Saturday night lodging
- Sunday buffet breakfast
- Sunday lift ticket
- Sunday evening group dinner with door prizes
- Sunday night lodging
- Monday buffet breakfast

There will be single, double, triple, and quadruple occupancy options available at our hotel. So it makes sense to bring along a few friends! We will be staying at The Northwoods Inn (www.northwoodsinn.com). The Inn is located in the heart of Lake Placid and Delta Blue, one of the Inn's dining alternatives, boasts live entertainment and has "The Best Burger in Lake Placid". Equipment rentals and lessons will also be available at reduced rates if you purchase them through us.
We will also award door prizes on Sunday evening during our group dinner and the lucky grand prize winner will enjoy a 100% CASH REFUND on the spot for all amounts paid for his/her trip package!
Flying solo? No problem. Sign up for a double room and we will pair you with another individual.
Signups require a $200 deposit per person to guarantee your reservation and be handled on a "first come, first served" basis. The balance will be due by December 31, 2014. So mark your calendars now!
QUESTIONS?
If you have any questions, contact Phil Russo at philrusso@aol.com or Fred Larcombe at frederick@larcombe.us.
Cost: $480 per person quadruple occupancy
$510 per person triple occupancy
$560 per person double occupancy
$675 per person single occupancy
Deduct $60 from the above rates for non-skiers/snowboarders
Two-day rentals are $65
Lessons are $35 for a 90 minute group lesson
Reservations: Go to www.hrcphilly.com